Thanks to the Orlando Sentinel and Wsbt.com we have the first pictures and videos showing the brand new Star Tours 2 queue decor. The room filmed here is the first one with the brand new Starspeeder 1000. Here is some of the pictures and what they say about the highly awaited ST2.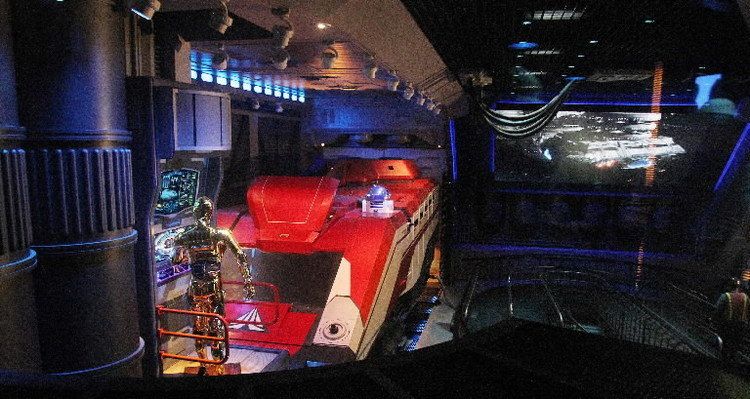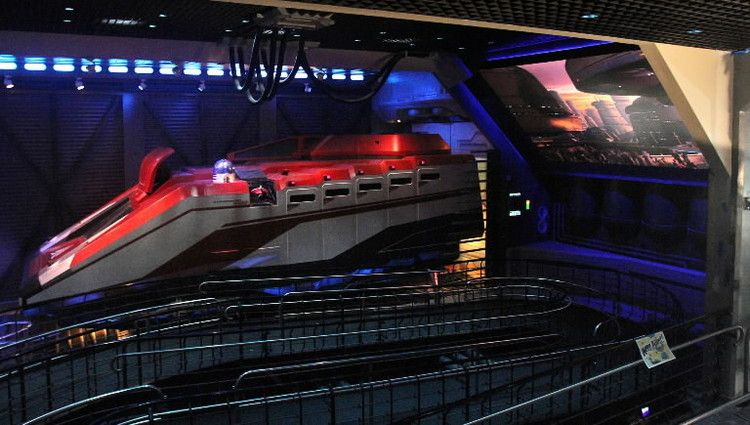 Another great picture shows Darth Vader with Storm Troopers and this pic is very probably coming from a "screen capture" of one of the the beginning of the new movies.
The revamping of Star Tour represents the highest-profile addition to the Disney World parks in 2011. A version will open at Disneyland in California on June 3.
Disney has been selective in what details it reveals, including the price tag for the renovation that took nine months to complete. The floor plan of Star Tours remains the same as when it opened in 1989, but its story and emphasis have changed.
The new Star Tours is designed to immerse guests in the Star Wars universe, said Kathy Rogers, senior show producer for Walt Disney Imagineering. That feeling should be present "as soon as you come in the door," she said during the Orlando Sentinel's exclusive guided tour this week.
The ride's 3-D film is divided into several segments featuring different planets and will be shown in 54 combinations. Once inside that door, visitors have a chance to see:
•A flood of fresh — and familiar — faces from Star Wars lore. The attraction is populated with characters throughout. "You've got Darth Vader, you've got Princess Leia, you've got R2-D2, C-3PO, Boba Fett, Yoda, Admiral Ackbar," said Tom Fitzgerald, executive vice president of Walt Disney Imagineering. "Jar Jar Binks makes an appearance."
The idea is to set Star Tours in a definite galaxy far, far away. The new safety video shows only intergalactic beings filing into seats; no one who looks like a tourist, as in the previous version. A window to another concourse shows shadowy outlines of other recognizable characters, royal and interplanetary. There are cameos during the ride.
•A crisp look that reflects a time shift. The new version is set years earlier than the old ride, and familiar objects look newer. "It feels like a brand-new airport," Rogers said.
In the first room of the queue, a copper-and-white StarSpeeder 1000 vessel sits where the blue StarSpeeder 3000 used to be. R2-D2 and C-3PO are there again, along with a small IC-360 scouting droid. Overhead is a new high-definition board listing spaceport departures and a galactic Weather Channel.
•A clear vision. Once the ride begins, the adventures are presented in 3-D digital projections, as opposed to 70 mm film. The imagery was again produced by Industrial Light & Magic under the guidance of "Star Wars" mastermind George Lucas. (The 3-D "flight glasses" are sleek, shiny and black.)
•Nods to Star Tours past. In the second room of the queue, which is the scanning area of the spaceport, boxed-up droids are ready for shipping. Rex, the hapless pilot from the original Star Tours, is marked "defective" and spews snippets of old dialogue."
Here is the video filmed essentially in the Starspeeder room.
Also, WDI Imagineer Tom Fitzgerald did a new update on the
Disney fans
web site:
Imagineer Tom Fitzgerald revealed that work on an update to Star Tours had been underway for about 10 years.
"We actually began planning the redesign over 10 years ago ... a year before Episode I was complete. Fans were eager to see some changes, but after learning that Episodes II and III were in the works, we decided the update would have to wait. In order to create the ultimate Star Wars attraction for our Parks, George [Lucas] needed to finish his saga so we could include the best of all the films."
"Because of time-period differences (the new attraction is a prequel to the original), we had to reverse-engineer our story, as well as the look of the Starspeeders."
"For the very first time, we utilized technology that selects one of 54 different story combinations so each ride's really a surprise. Guests never know where they'll go. We created this approach to keep it fresh for our enormous fan base. It's a huge change from the original show."
"We wanted to add 3D for years, but had to wait for projection equipment that was robust enough to make it look state-of-the-art. Advanced visual effects make the world totally dimensional and so much more realistic than before. It's absolutely breathtaking."
"It'll feel very different from the first show, which only featured space flight. We've added a desert pod race, underwater travel, sliding on ice, and careening through forests while smashing into trees. Some adventures will be planet-based, some space, but each ride will feel distinct because Guests won't know which story combination they're getting."
"Darth Vader's voiceover was recorded by the original actor. It was also great working with Anthony Daniels and Frank Oz, who reprised their roles as C-3PO and Yoda respectively."
"Aly San San came about because we couldn't think of anything and knew George [Lucas] was amazing with names. When we told him actress Allison Janney was doing the voiceover work, he instantly said, 'Aly San San.'"
"I spent more time with George than we were able to on the original show, which was absolutely wonderful for me. Meeting with him every few weeks to review the sequences, help us tune up the show, and learn from his experience was priceless. It was like taking a master class from George Lucas."
"John Williams and his music editor found passages from the scores to use in our show. The cabin music is taken from the original recordings!"
"We packed as much of the films as we could into the new show. It's really a salute to the best of Star Wars, so whether you're a fan of the original or the newer trilogy, there's something for everyone."
Let's end with another video showing the aliens silhouettes moving above the guests in the newly Star Trader store at Disneyland. Among the silhouettes moving and ready to embark on a new Star Tours flight we can see the Admiral Ackbar, Darth Vader and many more!
Pictures: copyright Stephen M. Dowell/Orlando Sentinel 2011
Videos: copyright Disney, Orlando sentinel or AGoodDonkeyShow